Language Support - Letter Layouts
The Executive keyboard incorporates a native USB controller for direct connection to both Macs and PCs.
---
The Executive keyboard has been designed to allow direct mapping of conventional keyboard layouts to the more ergonomic split hand position layout.
This version shows a UK PC-Mac Maltron letter layout with secondary Qwerty in lowercase. Qwerty primary layouts are also available.

The layouts are coloured to show the dominant and secondary (in green) letter layouts and the Apple/PC differences.
The key-tops are normally laser marked so are in black only, although hand engraved key-tops with different colours (as shown in the above picture) are available for an additional fee.
The Apple keyboard layout has the Operating System "OS" keys to the centre of the keyboard, whilst on a PC layout the "OS" and "APL" keys are between the "Ctrl" and "Alt" keys. The number pad on an Apple keyboard is numeric only, whereas on a PC it may also be used for cursor control with the "Num Lock" key.
Additional keys have been provided that return valid but often unused key-codes so that a user may add some additional keys to their keyboard without upsetting any other keyboard that may also be in use on that computer.
On the US language keyboard these additional keys are No: 14, 42, 45 and 56. The key-tops for these keys are marked K14, K42 etc.
Additionally true support for both Apple Mac and PCs is incorporated by switching between two separate sets of key-tables. This ensures that the positions used on a Mac for function keys F13, F14 and F15 return the correct key-codes when in Apple mode, and return the correct (different) key-codes when in PC mode.

Keyboards are available in Apple layout dominant or PC layout dominant configurations and with Qwerty/Maltron or Qwerty/Dvorak layouts.
These layouts have separate maps in the keyboard so no changes have to be made to switch layouts at the computer end.
Layout and Apple/PC changeover is by a pair of slide switches on the underside of the keyboard.

Keyboards can be supplied with Apple or PC style layouts and may be either "Single" engraved or "Dual" engraved. Single engraved shows only the dominant letter layout. Dual engraved shows both dominant and secondary letter layouts which makes it easier to switch between layouts (if for example the keyboard was being shared).
See our Language Availability page for further information as to which languages are currently supported.
---
US Layouts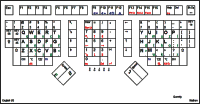 ---
UK Layouts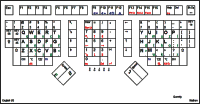 ---
French Layouts
---
German Layouts
---
Please note that these layouts are in development and some changes may be implemented as required.
It is Maltron's policy to support individual requests for additional standard language layouts as often as possible (for a small additional charge). Please contact Maltron with a specific request if you do not see your language currently supported.
An international version of the Executive is in development which will allow us to provide dynamic switching between two languages e.g. Russian Cyrillic-English US dual layout, and to support Asian language e.g. JIS (Japanese) layouts. This version also has numeric "comma" as well as "stop" on the keypad and the "0" key is single width.
---
Benefits of the Maltron Letter Layout
The Flat Maltron Keyboard compared to a Standard Qwerty Keyboard:
The use of the Maltron letter layout reduces the amount of individual finger movements required to type and the vertically aligned keys reduce the sideways micro movements which are very stressful on the fingers. The hands are split apart to reduce the tension across the shoulders and helps relieve hunching which promotes neck pain.
A great effort has been made in the design of the flat version to keep as much as possible that is familiar whilst providing the maximum benefit derived from the 3D version's format with its proven ergonomics.
So for anyone who wishes to enjoy many benefits of the Maltron ergonomic design but who are not actively suffering RSI in the hands and fingers may now consider the Flat Maltron keyboard as an option particularly for those who are experiencing pain and discomfort in the upper arms, shoulders, back and neck when or after typing (WRULD).
Please look at this PowerPoint Slide Show (pps) presentation about
KEYBOARD LETTER LAYOUTS

PLEASE NOTE
Whilst we really really do think you will get most benefit from using the Maltron letter layout we also acknowledge that many people have invested much time and effort in becoming proficient in their typing skills so we DO offer a QWERTY dominant or QWERTY only letter key-top version as well.
N.B. All keyboards have both Maltron and Qwerty letter layouts available (even if not dually engraved on the key-tops) so people can change between the two layouts as required.
---
British Design Registration No: GB 3007667