Prototype Information
Note: this page show the original concept prototype and the production version is slightly different in appearance with additional keys and fixed feet. The width has been decreased slightly and the front to back increased to provide better palm support. The base is now a U channel which increases rigidity and overall flatness.
---
Executive Keyboard in Perspex and Stainless-Steel


---
Letter Layout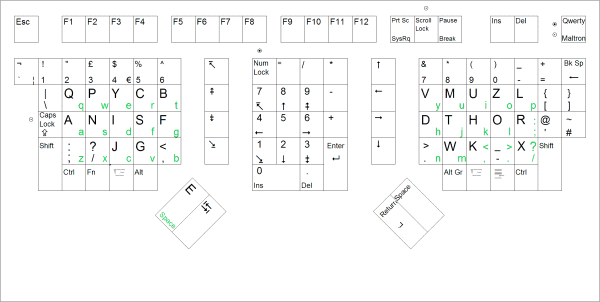 The letter layout follows the conventions found on a Qwerty keyboard except with the changes associated with the optimised Maltron primary letter layout. Secondary letters, numbers and symbols outside the two 5x3 key areas are in their normal places with the exception of the "backslash-vertical bar" and the thumb keys.
N.B. All keyboards have both Maltron and Qwerty letter layouts available (even if not dually engraved on the key-tops) so people can change between the two layouts as required.
---
Benefits of the Maltron Letter Layout
The Flat Maltron Keyboard compared to a Standard Qwerty Keyboard:
The use of the Maltron letter layout reduces the amount of individual finger movements required to type and the vertically aligned keys reduce the sideways micro movements which are very stressful on the fingers. The hands are split apart to reduce the tension across the shoulders and helps relieve hunching which promotes neck pain.
A great effort has been made in the design of the flat version to keep as much as possible that is familiar whilst providing the maximum benefit derived from the 3D version's format with its proven ergonomics.
So for anyone who wishes to enjoy many benefits of the Maltron ergonomic design but who are not actively suffering RSI in the hands and fingers may now consider the Flat Maltron keyboard as an option particularly for those who are experiencing pain and discomfort in the upper arms, shoulders, back and neck when or after typing (WRULD).
Please look at this PowerPoint Slide Show (pps) presentation about
KEYBOARD LETTER LAYOUTS
---